IRONFX REVIEW
Background


IronFX Limited now Notesco Financial Services Limited is an online trading service provider with operations in the UK and Australia. With a global presence in 180+ countries, IronFX is out to meet the brokering needs of the world. As a subsidiary of IronFX Global, a Cyprus-based firm that owns and operates FXGiants, IronFX is committed to serving clients with the best possible standards.
IronFX serves as a brand for 8Safe UK Ltd in its United Kingdom operational base stationed in London and is regulated by UK's Financial Conduct Authority. It operates as GVS Pty Ltd in Australia and regulated by the Securities and Investment Corporation of Australia.
Although IronFX is restricted from clients within the United States of America, Customer Accounts at IronFX are kept separately with highly rated banks. As a licensed financial company, they are guarded by the UK's Financial Services Compensation Scheme whose responsibility is to settle Traders whenever there is a failure on the part of the Company to satisfy her customers.
IronFX Australia and UK has www.ironfx.com.au and www.ironfx.co.uk respectively as the websites. Therefore, this review will highlight their uniform operations in the two countries.
Features of Trading with IronFX

IronFX is managed by a team of IT experts and financial professionals that boast of several years of experience; among them are market analysts, risk managers, client business solution analysts and software developers.
Despite their global reach, IronFX service both retail and corporate investors offering them the opportunity to trade in over 200 financial instrument deals.
In addition to this, IronFX offers a ratio of 1:500 in some trading instruments like Forex currency pairs and much more. To provide incentives for its clients, IronFX offers a bonus of 100 percent to be shared for deposits of $10,000, as well as, a 20 percent iron bonus for a deposit of up to $2,000. It is pertinent to mention here that such bonuses are not meant to be withdrawn.
Trading Software
The major Trading platform software supported by IronFX is the MetaTrader4 trading (MT4) provided by Metaquotes with desktop and mobile versions on both Android and iOS platforms.
With access to PMAM or Personal Multi-Account Manager software package, IronFX allows customers to trade and perform risk management for different accounts and funds. PMAM can be used in monitoring market and account activity with its one-click order entry feature.
IronFX develops Webtrader for web-based trading platforms.
Deposits and Withdrawals
IronFX uses the bespoke interface for its deposits and withdrawals which is aimed at meeting each client's requirements. The system's interface works through a peculiar client portal that is dedicated for deposits and withdrawals and other customer needs.
However, IronFX does not accept cash deposits, but customers can use the Client Portal for deposits and withdrawals in one interface. Below are the lists of the deposits and withdrawals methods accepted by IronFX and the fees, maximum transactions, as well as, restrictions they attract.
Bank Wire- the charges with bank transfers is unique to the banks although IronFX does not place deposit restrictions nor charge transaction fees.
Debit and Credit Cards- IronFX accepts Master Cards, Visa, and Maestro debit/credit cards with no extra charges when depositing but a withdrawal fee of 1.5 Euros is charged per transaction. Credit/debit cards cannot be used for transactions above $50,000.
China Union – although IronFX charges no fees for deposits, China Union charges CNY 20 per transaction and a maximum limit of CNY 360,000 is placed be a transaction.
Fasapay – Fasapay is free for deposits, but withdrawals attract a charge of 0.5% per transaction. The maximum amount you can use transaction in a single deal is $5000.
Netteller- IronFX charges $1 for deposit transactions; with no restriction amount for deposits.
Skrill- deposits made using Skrill are free. However, the maximum transaction amount is $50,000.
In all the countries of operation, IronFX offers real-time customer support for its clients in over 30 languages. IronFX uses email, live chat, telephone, and Fax to reach their clients from their headquarters. Direct lines are available to link clients to the trading desk and client funding queries.
Customers can also get market analysis news, videos, eBooks and research materials from the IronFX website. It is possible to have a personal meeting with a representative of this broker at some of the world's greatest financial/economic forum.
Safety
IronFX Global Ltd now Notesco Financial Services Limited is authorised and regulated in Cyprus by CySEC under license number 125/10 and FCA in Britain (No. 585561) and ASIC in Australia under AFSL number 417482.
The payment system providers in IronFX are licensed by reputable regulating agencies such as Cyprus's Central Bank which regulates Safecharge, Cardpay, and CSC24Seven while the FCA in Britain authorises Ecommpay, Skrill, Webmoney, and Netteller. The Chinese Central Bank and the Financial Supervision Authority of Poland regulate Dinpay and Dotpay respectively.
Clients in IronFX are offered the benefits of banking and treasury services through major banks such as Barclays, Unicredit, and Westpac.
Finally, IronFX offers each client an ID number to ensure that company funds are kept separate from clients account funds.
IronFX Academy
IronFx has an academy essentially to enrich the trading knowledge of their clients through educational resources. The trading potentials of their clients are enhanced via the training resources available on the academy web pages. The client can take advantage of the resources available on the web pages to enhance the trading acumen. One good thing about the academy web pages is that it is regularly updated to reflect the latest market information.
The academy is designed in such a way that it accommodates both experienced and amateur traders. As a newbie trader, for you to become more competent in the trader, you can attend the webinars, seminars, and expositions organised by IronFX through the academy.  What's more? The academy also boast of daily market news, as well as market research and insight to providing the clients with the best trading data and information to make a good trading decision.
FOREX PROMOTIONS
As a way of showing gratitude to its esteem clients, IronFX has Forex promotion to gift customers for choosing her trading platform. In the history of FX, IronFX has been holding one of the biggest live competitions. Once a winner is announced, he/she has the choice of either coasting home with cash reward or other gifts. The last live competition that was held saw a winner coasting home with over $10,000 in cash.
Furthermore, IronFX normally arranges for a demo live competition for traders to practice and display their inherent trading skills free of charge. The live demo competition also comes with price reward to whosoever wins. Also, there are different bonuses to any trader that introduce friends or family members to IronFX.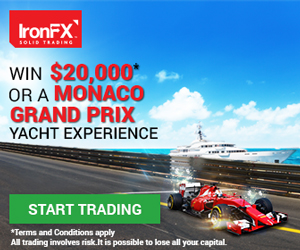 Social Trading
IronFX provides customers with the benefit of socially trading with the reputable and successful brokers in the world. As the latest trend in forex trading; IronFX offers the customers different social trading platforms with real-time office support.
Advantages of IronFX
IronFX is the world's leading online broker with a customer concentrated model uses bespoke trading platforms with a range of quality products to offer the best pricing, execution, and liquidity. The basic benefits of investing in IronFX are highlighted below:
The lowest spreads in the market combined with easy leverage ensures a good trading environment.
It offers the best instant execution without slippage or re-quotes.
Over 17 investment rated banks offer immediate access to the thick liquidity pool.
The strategy team provides daily world-class research and analysis.
Customers have dedicated account managers to offer support and rectify complaints.
Clients investments are respected with utmost security, transparency, and integrity.
Over ten trading platforms functionality combined with access to over 200 trading instruments.
The trading platform is user-friendly
Disadvantages of IronFX
Customer complaints are not addressed in time.
Violation of consumer protection rights
Conclusion
IronFX is considered the world's leading online broker despite its minor shortfalls. Its primary trading platform which is MT4 is available in Windows, iOS X, iOS and Android systems. Clients can easily make transactions via the Client Portal and complaints are easily settled via safe and reliable customer support.
New traders are assisted with educational/training materials including videos, webinars, seminars, and forex based events in cities of the world.
Finally, customer's accounts are safe and operated independently of company accounts with special oversight by the industry's regulators in the various countries of its operation.
You can open an IronFX account by clicking here